Jul12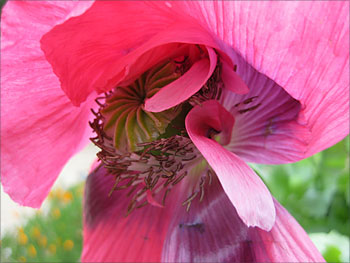 I have many half finished blog posts on gardening: propagation, cover crops, tinctures, etc, but I'm just not feeling it. I need to stay with what's true for me. This loss has really shaken my world.
I find myself either in competence mode, when I'm getting things done, and not feeling much, or submerged in the depths of grieving. Grief seems to sneak up and tap me on the shoulder when I least expect it.
Before losing my mom, in the last five years, I lost two cousins who were very close, so I am no stranger to this.
Still, it's hard to believe that I will ever get back to "normal." I asked Dave if it was this bad when my cousin Melissa died, which was completely unexpected, and he said that it was worse. I find that hard to fathom from here.
I believe that my mom is better off, and that her soul/spirit is still around, but I miss her so much. Weekends are especially difficult, because they have been dominated by my time with her for so long. It's ironic that sometimes I resented missing out on doing things when she was alive, and now, when the weekend rolls around, I feel empty and unmotivated.
I just paid off some of my mom's last bills, and it was hard. It's as if, if the bills still exist, then she does too. Going from being overwhelmed by her paperwork, to feeling sad that it's going to be over soon is something I never would have expected.
This thing called grief seems to come in waves, and I sense that they will get deeper before they roll off. I need to make time to take it easy and be with those feelings. I was out on the garden, talking to my neighbor who lost her mom last year. She told me it took her a year to feel ok. She has a beautiful glow, but I remember when her grief was written on her face, that walking wounded look that I sometimes see in the mirror.
I know I will move through this. It's important to me to continue to acknowledge what a passage it is, and to move in my own time. I also know that sometimes it will not be on my mind at all, and I need to enjoy those times fully as well.
I do find comfort in those time-honored traditions of lighting candles and sage, putting out fresh flowers and pictures on an altar. It has also really helped me to write about it here. Have you ever lost someone? What kind of rituals gave you comfort and memory?