Jun18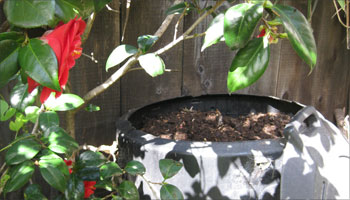 I am lucky enough to live in the city AND have a big backyard.  Every day I give thanks for my yard, the fact that I have so much greenery in the heart of the city.  Even though everything is perfect, it's still hard to get those food and paper scraps out in a way that they can be maximized by my compost pile.
I have learned that what works for me is a series of containers for each step of the composting process.  In my kitchen, I have a stainless steel bucket on the counter next to the sink.  I've tried ceramic and plastic containers, but this seems to work the best and last longest.   I empty this fairly frequently, at least once a day.
Then I have one of those white plastic paint buckets with a tight fitting lid that I empty the kitchen compost into.  This sits on my back porch, and gets pretty grotty. I like to put straw or clean sawdust in the bottom of this.  Because of the laziness factor, this doesn't get emptied until it's completely full.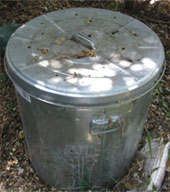 In the backyard, I have a large plastic composter and a couple of galvanized garbage cans, with holes hammered into them with a nail.  At first I was composting directly into the plastic composter, but then I had a problem with rodents, and I really hate rodents.  I rotate out the 2 metal cans, and when one is 3/4 full, I throw some straw on it, let it sit, and turn it, while using the other one for food scraps.  When those are partially composted, I transfer them to the large plastic composter, which is bigger, so I can get higher temperatures.
I don't have a version where I sift the compost, because, by the time I want to use it, it's looking pretty good.  I do know other people who like to sift their compost.  I have one more bin way in the back corner of my yard for big branches and things that will take forever to break down.  I look at this about once a year.