Feb9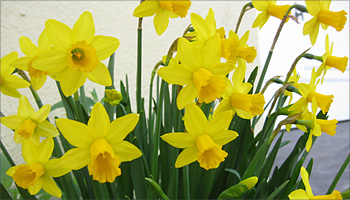 When I was young, living in New York, my mom would always bring home daffodils for our birthdays. My sister and my birthdays are one week apart, in late March, around what we used to call "the first day of spring." This year, in San Francisco, spring is busting out early all over the city.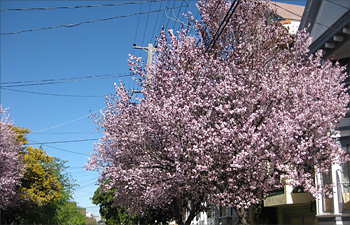 There is a glorious abundance of street trees in bloom, mostly courtesy of the Friends of the Urban Forest. They have a collaborative Urban Forest Map of San Francisco where you can log in and post your own pictures of trees or add to the info about them. I was able to look up the above trees by address, and added my bloomin' photos to the db. I found at least one Prunus cerasifera, or Cherry plum, which sounds about right. I'll go back and check the address and maybe add to that tree info, or other neighboring trees. You can also look up trees by species.
It's like a census for trees!
Tree Map Introduction from Kiran Goldman on Vimeo.
What a great resource. You can see the "Yearly Eco Impact," which tracks Greenhouse Gas Benefits, Water Benefits, Energy Benefits, and Air Quality Benefits, and puts a dollar amount on them. There are some hiccups, mostly dealing with the seed data, which placed trees directly in the center of parcels. So it's up to participants to get it correct by moving the trees to their correct locations.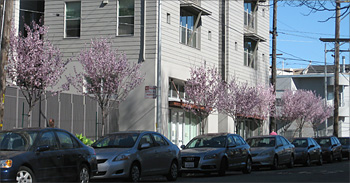 Here are some more random photos, below, one of our most stubborn weeds, oxalis, looking pretty at the beach:
along with some Ceanothus, or California wild lilac: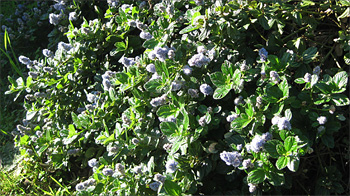 And last but not least, this pretty little purple daisy: