Dec8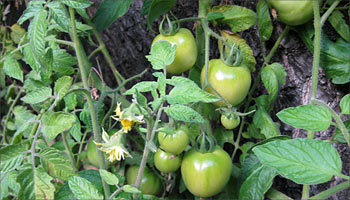 This has been one of the craziest weather years I can remember.  So many days with 30 degree shifts and a long cold foggy summer.  These tomatoes were planted at the right time, but they just did not like that summer.   I have stubbornly held off from razing the vines as long as I'm still picking tomatoes, but they're gonna go soon. 
Many people can't grow tomatoes in San Francisco because of the cold summers.  Tomatoes need a lot of sun.  SF is a city of microclimates;  I live in a part of the city that usually has a very sunny microclimate, and even within my neighborhood, there's a little sun bowl.  I  lost some serious sun when some lofts were developed to the west of me (damn them), but I still have a few good spots.
For some reason, the tomatoes love it at the base of the yucca plants, and I have tried and failed too many other times elsewhere, so I keep coming back to the yucca.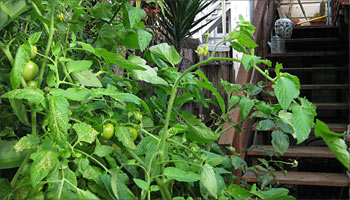 I would hope that the nutrient gobbling tomatoes would take away some of the oomph from the yucca, but, no such luck.  The soil is just really rich, and after many seasons of sheet mulching and composting, they both just go crazy.
This year, the tomato plants got super huge, but there are still flowers on them that haven't fruited yet.  That was mostly the foggy foggy summer, but also, I think I could have done some more judicious pinching.
I need to clear them out because I want to get some cover crops in the ground pretty soon, it's pretty late.  Usually I plant fava beans or crimson clover, but this year I thought I'd try something different.
This time I got fenugreek seed from Peaceful Valley Farm Supply.  Looks like quick growth, and I can use it in cooking as well.  Less organic matter than other legumes, but my compost is coming along swimmingly, so I'm not too worried about that.  I didn't get the inoculant, but I've grown crimson clover in that spot before so I'm hoping it's in the soil.  We'll see!
The tomatoes haven't been AMAZING, but they have been there steadily when I need them, and I have had enough to foil the rats, they've bitten quite a few, and I've let quite a few ripen. I haven't had to buy tomatoes.  A world that works for everyone.
Say goodbye:
If anyone has tips on encouraging more fruit, please share them!