Jul18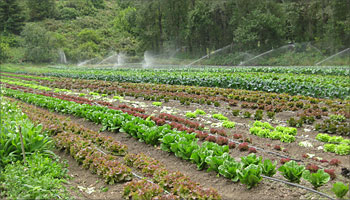 Nothing makes me happier than a farm by the sea.  I have always felt that the food tastes better if grown near the ocean, that some of the coastal magic comes through the plants.
Yesterday, I visited Green Gulch Farm, which is part of the San Francisco Zen Center.  I was there for a yoga retreat, and had to walk down to the farm from the yurt where we had our retreat.  The cooler coastal climate is ideal for growing lettuces and salad greens, and those from Green Gulch taste so good!  Many of their row crops had flowers grown at the end, for beneficial insects.  There were bees everywhere, and the lavender was a buzzing.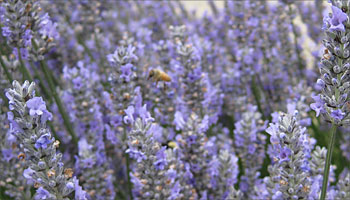 I wanted to see how they did their compost, so I asked a couple of people, getting the answer, "Keep walking, you can't miss it."
I finally came to an area with big, mostly covered piles on the ground: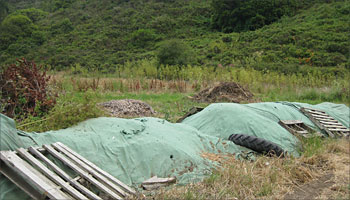 There was partially aged manure peeking out from some of the piles, and there was a a huge pile of really dark beautiful compost with one of the most raging squash plants I've ever seen: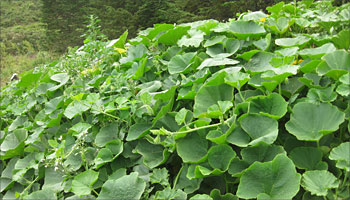 On the way to the beach, there were horses grazing, and I came upon a woman hauling a wheelbarrow full of manure towards the farm.  What an ideal arrangement!  I am on the hunt for some manure to amend my compost…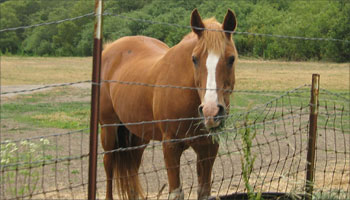 After a relaxing day doing yoga, and feeling infused with the deeply peaceful air of Green Gulch, I set off for home, back to the city.  It was close to rush hour, and even on highway 1 on the coast, there was a lot of traffic.  I had to stop and do a short hike on the Miwok Trail overlooking Mill Valley.
When I got on the freeway, the traffic was bumper to bumper, and my 30-year-old Honda started overheating.  I was able to pull of on an exit that was just a dirt road, so I did another hike that I've never done before, climbing up into the hills and fog overlooking the congested freeway and the Sausalito houseboats below.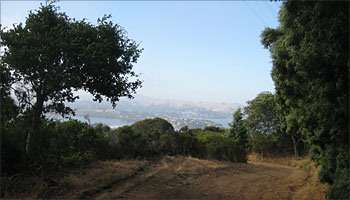 The traffic was so bad, that I wound up getting off again in Sausalito and eating clam chowder at fish, the sustainable fish restaurant right on the harbor.  What a perfect day!