Mar15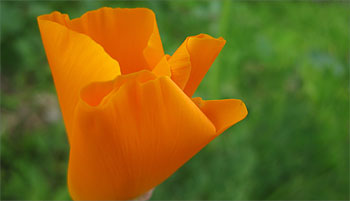 Another Garden Blogger's Bloom Day rolls around and, once again, I am caught napping, so I'm going to post mostly just photos for March. It's exciting to see the ground waking up elsewhere around the country, and bulbs start to poke out of the ground.
The top picture is one of the first California poppies to come back this year. They seem to reseed with abandon, so I haven't had the chance to try to grow them from seed myself.  Recently I was given some seeds, so I will have to try starting them in a area that's protected from the cats.
The calla lillies are finally open, and I've been pulling them, giving them away and keeping in water by my desk. This is another "do absolutely nothing" plant, I do appreciate that.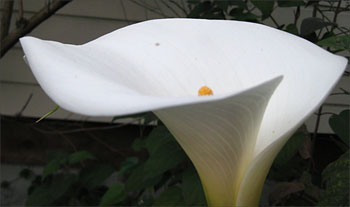 The apricot tree is blooming, I hope I get some nice apricots this year.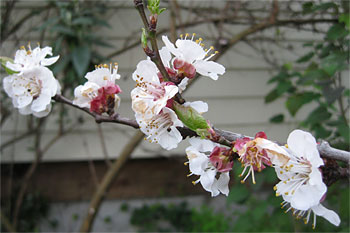 Here is a blossom close-up: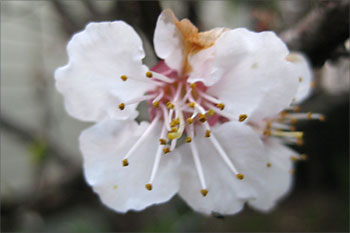 The ceanothus and ribes are still blooming (ceanothus pictured below.)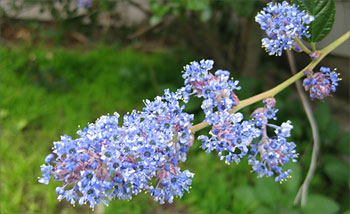 And so is the camellia that's been blooming for months now. I like the way I can keep track of how long the blooms last with this blog.
Borage, which is everywhere is just starting to bloom, and I couldn't resist adding this magnolia, which isn't in my garden, but is right down the street.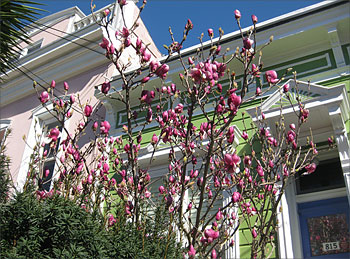 Garden Blogger's Bloom Day is brought to us by May Dreams Gardens. Yay!