Aug23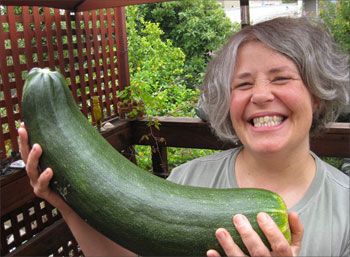 While I've been gone, I haven't been harvesting my zucchini fast enough. This monster was hiding under the giant leaves.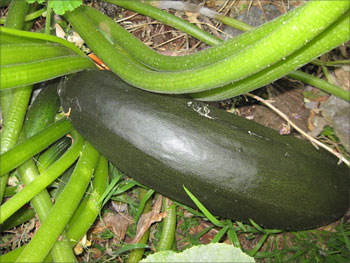 It reminded me of this scene from Animal House, one of my favorites:
The zucchini is just about done, after maybe 2 months of good health and good eating, One of the plants has got a bad case of powdery mildew and blossom-end rot. It's funny, it's hot and dry in the garden right now, but the powdery mildew is rearing its ugly head, on squash, comfrey, borage (that's a new one) and roses.
I've been separating out the diseased leaves from my compost, but I want to make sure it doesn't spread to other plants and to my cucumbers, so it's probably time to spray something, neem, or milk and baking soda. I'm also really careful about not using my pruners to pull any more zucchini, don't want to spread it that way. I am embarrassed to show these pictures of how far gone it got, I put these leaves in the green bin last week, and the new leaves are looking much better. What works for you in getting rid of powdery mildew?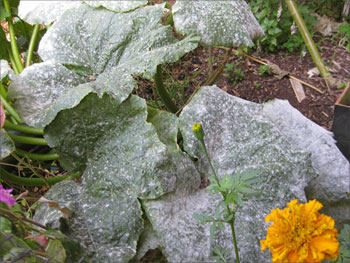 On a brighter note, I decided to visit the free farm stand to share my huge zucchini, because it's way too much for me and Dave, and our fridge is packed with it. How nice that there's a place where we can share the excess so close by! The free farm stand is just a few blocks from me, and is such a great place. It's so popular, I wish there were stands all over the city. Usually I have just dropped stuff off (including much more reasonable zucchini), but this time I decided to wait in line and get some free food!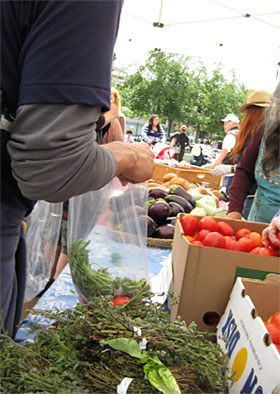 I was amazed at the tomato bounty, grateful cause I got mine in late and they're just flowering now.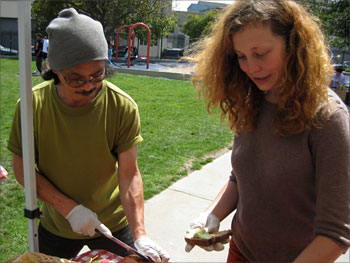 I was so happy that these folks were making sandwiches!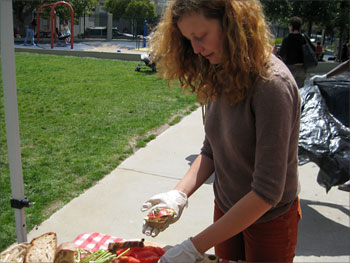 There was some really delicious hummus and a fruity gingery(?) jam that was so good.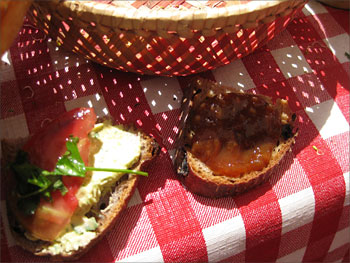 Everyone working was so good natured, even with the long lines, and I loved the red-checked tablecloth! I don't even get that kind of ambiance at home…
The Free Farm Stand was started by Tree, who has been dedicated to making food accessible for all for a really long time. I have worked with him in the garden often, and known him since our kids were small. Now that I have more time I hope I can put some more energy and food in.
I didn't see Tree, but I did talk to someone who was telling me about her chickens and aquaculture in her yard. I am hoping to find out more about that soon, because it sounded like an incredible system!
We had some pinto beans cooking at home, with the magical synergy that comes from cooking them with a small piece of Kombu (seaweed). Something happens when you plunk that piece of seaweed into your cooking beans, and it's definitely magic, and doesn't taste anything like seaweed. They become easier to digest, and just take on a really nice texture.
We put the tomatoes that were more for cooking, or slightly bruised in with the cooking beans towards the end, and saved the really nice ones for the top of our tacos:
So simple and delicious. beans, rice, tomatoes, pepper jack, and tortillas, with diced jalapenos. Tonight I'm marinating eggplant slices to grill.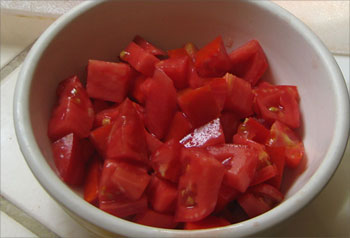 Here is something Tree wrote up for the Free Farm Stand. Do you want to start one in your town?
(I had to cut off the beautiful borders so it would fit.)