Mar1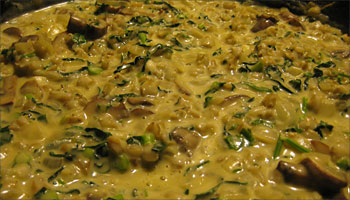 Here's a little healthy but decadent thing I threw together last night. Barley is a great warming comfort food for those chilly spring evenings.
I used hulled barley, as opposed to pearl barley which has been hulled and polished, or pearled. It's a little confusing, sometimes hulled barley is referred to as "unhulled"  or "dehulled" barley. Unhulled barley is actually a different animal, it's inedible as is, but can be used for planting or sprouting. I always forget which term to use. Pearl barley has had its germ and much of the bran removed, which contain much of the vitamins and minerals. It doesn't have as much fiber, but can be cooked much more quickly. Barley fiber is high in beta glucan and produces propionic acid in the body, both of which lower cholesterol.
This recipe takes a little bit of time and preparation, to soak and precook the barley, and to stir the risotto and allow it to absorb the broth.
1 cup hulled barley
4 cups chicken, mushroom, or vegetable broth
2 tsp butter, ghee or vegetable oil
1 1/2 medium onions, chopped
a pinch of rosemary
2 bay leaves
olive oil for sautéing
1 lb mushrooms (I used crimini, but wild mushrooms would be even better)
1 garlic clove
2 tbsp parsley, finely chopped
4 leaves lacinato kale, finely chopped
2 tbsp mascarpone cheese
2 tbsp mild blue cheese, or sharp cheese of your choice
Cook the barley with 2 1/2 cups of water. Hulled barley cooks fastest when soaked overnight, but I just brought it to a boil at lunchtime and let it sit, covered until after work, when I cooked it for 50 min, until it absorbed the water.
Bring the broth to a boil and cover it. Melt the butter and sauté the onions in a skillet (I used a cast-iron skillet) for 5 minutes. Add the rosemary and bay leaves and 2 cups of the hot broth, bringing to a boil. Reduce heat and simmer until almost absorbed, stirring frequently, about 5 minutes. Add remaining broth 1/2 cup at a time, allowing it to be absorbed before adding more and stirring constantly.
While this is cooking, heat the olive oil in a saucepan and add the mushrooms. Cook until they start to brown. Add the garlic. Cook until tender, about 3 minutes.
Add to barley with chopped kale, cook for about 5 minutes. Add parsley and cheeses, salt and pepper to taste. Serve immediately.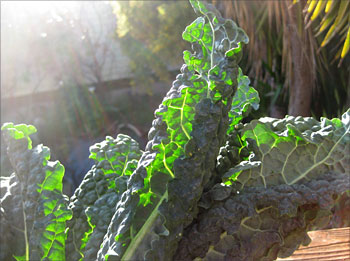 I added the blue cheese after the mascarpone, because I wanted it to have more of a bite. It really did the trick nicely. If you want to make a vegan version, you could add some dry mustard powder and a white miso for a little more flavor.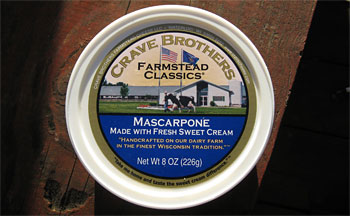 But I love the cheese! I used Crave Brothers mascarpone cheese. It was good. Mascarpone is made from crème fraîche, and if you like dairy, it's like you've died and gone to heaven.
I don't remember what kind of blue cheese I used, it wasn't one that was aged for too long, though, think it was a raw milk blue.
I am lucky enough to have the best cheese department a hop, skip and jump from my house at worker-owned Rainbow Grocery. The cheese buyer there wrote Cheesemonger: Life on the Wedge, an illuminating and personable book about cheese, politics, music and working in a collective. Here's a good interview about the book.
This recipe was adapted from this recipe, which used pearl barley and no cheese…
Here's another recipe that looks good, using a variety of barley I haven't tried, purple prarie barley.
barley water is a health-giving quenching elixir that's derived from barley . Here's a nice blog post with a couple of barley water recipes, the Eleusinian Mysteries, and the Demeter/Persephone myth, one of my favorites.