Sep8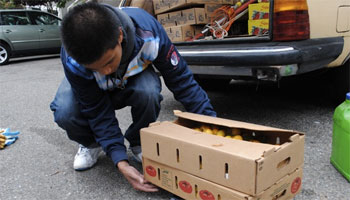 I want to give a shout out to Produce to the People, a backyard harvest project that collects local produce from residential fruit trees and gardens in SF and gives it away to people in need.
Produce to the People also focuses on the creation of green jobs for youth with barriers to employment.  I remember when the ill-fated SLUG (San Francisco League of Urban Gardeners) was employing neighborhood youth. I had the opportunity to work in the garden alongside high school students who were excited to be growing food and helping to feed their community.  I was so disappointed when that program went down, so it's great to see a newer program that seeks to fill that role.
I heard about this organization through Tree at the Free Farm Stand. Produce to the People helps supply the Free Farm Stand with fresh produce.
Right now, Produce to the People is in the middle of a Kickstarter fundraising drive, and they've got a way to go to meet their goal.  Kickstarter projects don't get funded at all unless their goals are met.  The fundraising drive ends on September 29th, 2010.   I see it as just another way to plant those local seeds of community.
If you're in San Francisco and have fruit or vegetables and no time to harvest it, there's a quick form on their site where you can add your information and share your harvest. I just added some oregano which it seems like I'm harvesting all the time. I've been meaning to take it to the farm stand, and have bundled some up and brought it there, but there's so much more available. I'm looking forward to sharing more produce as it becomes available.
PTTP is strongly committed to environmental education and food security. I hope they grow and succeed as an organization.
Right now they're in the middle of a cross country tour visiting farms and gardens.   You can follow them on their blog.
The top photo is from an audio slideshow at El Tecolote. Photo:  Shara Nieto.